There are a plethora of benefits to owning a waterfront home, but the risks of flooding, storms, and maintenance can weigh on buyers' peace of mind. When you buy a Wesley Chapel lagoon property, you can enjoy waterfront benefits with virtually none of these risks. Lagoon properties are now available in Texas and Florida and are being developed elsewhere as one of the
newest trends in luxury living
. Below are a few reasons why home buyers are flocking to these state-of-the-art real estate communities.
1. The Water Is Always Clean
While living on a lake or ocean has many perks, cleanliness of the water is usually not one of them.
Ocean pollution
is a serious problem, and lakes can be filled with pesticides, fertilizers, and sewage seepage that make them unpleasant (or even dangerous) for daily swimming. Conversely, artificial lagoons offer cleanliness, safety, and consistency. The
Lagoon at Epperson
provides Wesley Chapel homeowners with water that's constantly filtered and monitored by a central control center to ensure its quality. Foreign matter is quickly detected and removed, but the water is also treated with fewer chemicals than a typical swimming pool.
2. There's an Abundance of Amenities
If you own real estate on the
Lagoon at Epperson
, you can enjoy constant access to kayaks, island floats, water slides, and cabanas for lounging. The lagoon is more than seven acres in size, and you can play beach volleyball, swim up to the bar, or spend your afternoon floating in the crystal blue waters. It's almost like being on a permanent vacation — only it's also a great place to get work done. Homeowners can also take advantage of ULTRAFi internet and cable throughout the community and a variety of housing layouts ranging from $200,000 to more than $1 million. These amenities have attracted a vibrant community of families, active adults, and retirees to Wesley Chapel.
3. No Risk of Flooding
Living in an oceanfront property means a constant risk of floods. This makes flood insurance a necessity, which will currently cost homeowners at least $50-$100 extra every month. But for waterfront homeowners in Texas and Florida, rising seas levels, ocean acidification, and volatile weather associated with global climate change mean increased insurance costs over the coming decades, as well as an increased risk of losing your home and belongings due to flooding. In lagoon communities, there is no risk of flooding because the houses are located near a man-made water source that is constantly monitored. The water level can be lowered before a storm to limit any chances of overflow, so you know your home and possessions will always be safe from water damage.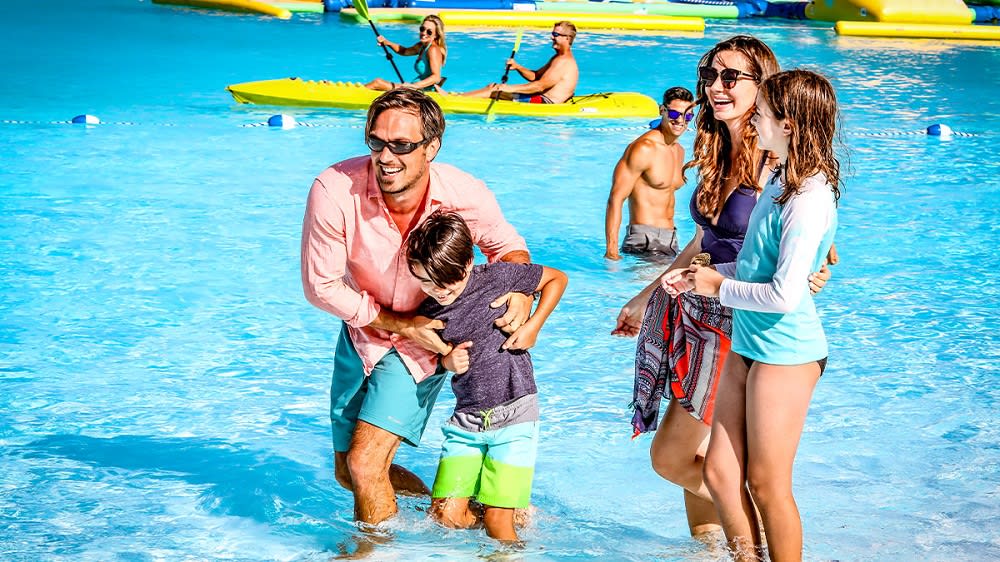 Lagooninformation.com
4. Constant Activities
Homeowners on the
Lagoon at Epperson
have year-round access to an array of activities for individuals and families alike. In addition to activities like kayaking, there are frequent cookouts near the beach with other residents, a kids club for children, and weekday happy hours. You can also enjoy the on-site dog park, fire pits, and miles of trails for walking, biking, or jogging. If staying active and busy with resort-style activities is your idea of luxury living, the lifestyle of the
Lagoon at Epperson
is perfect for you.
Decide if a Lagoon Community Is Right for You
Though thousands of people have already discovered the joys of lagoon living by purchasing a home on the
Lagoon at Epperson
, that doesn't mean it's right for everyone. Before you decide to make the move to a lagoon community, talk to a Wesley Chapel real estate agent about your finances, your personal preferences, and your desired lifestyle. You should consider whether you want a waterfront property intended for lounging versus boating, fishing, or sailing. You should also consider if you want to be near a neighborhood of active families and if you are willing to take on a 30-minute commute to Tampa. Each of these considerations can help you decide if lagoon living is a good fit.
Work With an Experienced Wesley Chapel Real Estate Agent
An experienced Wesley Chapel real estate agent can give you all the information you need on the Lagoon at Epperson and other Wesley Chapel property. They'll be able to provide you with a trusted array of builders and home designs, so you can be confident in finding the perfect home for you or your family. Additionally, your agent can help you line up financing and, if needed, sell your current home.
Reach out to one of the well-reviewed Wesley Chapel real estate agents at
King & Associates
to make your dreams of lagoon living a reality.