When shopping for a home, buyers may notice a difference between staged and unstaged homes. It begs the question: Is the staging process worth the cost? Does it yield favorable results? There's no doubt that beautifully staged homes sell faster than their unstaged counterparts. Staging decreases the amount of time your home spends on the market, helps potential buyers envision living there and so much more.


To better understand the ways that home staging can help get your property off the market, it's vital to define home staging.
Home staging
is a marketing technique that involves decorating your property to showcase its best attributes. The aim is to create a clean, neutral, and spacious-looking home where buyers can imagine their lives unfolding.
Staging can be done independently, with the help of a real estate agent, or through a professional staging company. Regardless of how you approach this venture, it's a worthy pursuit to achieve an optimal real estate transaction. One thing is certain: if you want to sell your home quickly for a high price point, you should shell out the money to stage your home. Read on to discover the many benefits of staging your home for sale.
1. Increase home value.

Sure, staging isn't free, and having your home staged can often cost a pretty penny. But when you crunch the numbers and consider your chances of pulling in a higher offer, staging is worth it. Staging costs vary depending on your budget and range from $400 to several thousand — but reports show that it's worth every penny.


The NAR
2021 Profile of Home Staging
report shows the difference in dollar value when homes were staged. 23% of buyer's agents said that staging a home increased the dollar value offered between 1 and 5% compared to similar homes on the market that went unstaged. A 1 to 5% increase may seem insignificant, but when it comes to luxury Florida real estate, that cash in your pocket could make a big difference, helping you pay for your move, your agent, home staging, and other costs that will surely come up during the home selling process.
2. Decrease the home's time spent on the market.

Per the NAR report, 22% of sellers' agents stated that there were slight decreases in time on the market when the property was staged, while 31% reported that staging significantly decreased the amount of time on the market.


If this info doesn't convince you, this
Real Estate Staging Association
study should sway you. The study's findings show that staged homes spend 72% less time on the market. Buyers are more likely to make a quick offer on a home that looks appealing and feels move-in ready. Plus, the longer a property stays on the market, the more the price drops. Less time on the market equals a higher sales price. Get your home off the market quickly by staging!
3. Staging makes your home feel newer and move-in ready.

Filling your home with just a few essential furnishings, strategically placed accents, and homey touches makes it look brand-new. Staging highlights the home's best features and demonstrates the property's potential, leaving a favorable impression on buyers.
4. Staging maximizes space.

Proper staging can make your home appear larger. It's a common misconception that clearing a room out makes it seem bigger — it can actually have the opposite effect! On the other hand, having too many pieces can make a room feel cramped. Even the smallest rooms can be decorated in such a way that makes them appear larger. A properly staged home will appear both cozy and refined.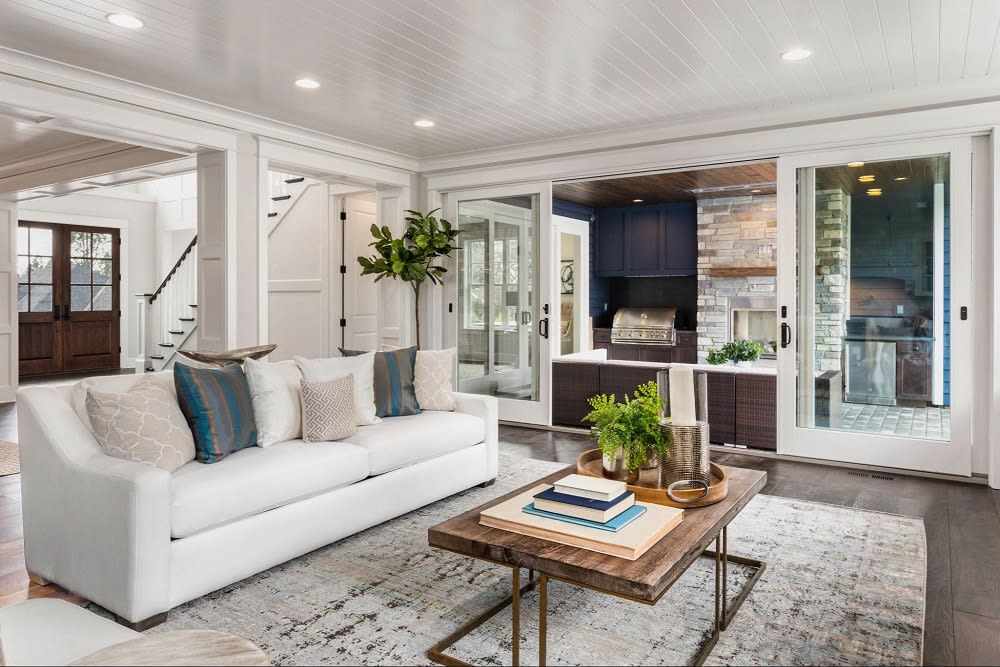 5. Buyers can better visualize themselves living there.

It will be impossible to sell a home to a new resident if they walk into a house filled with your family heirlooms and photos hanging everywhere. Home staging provides an elegant blank canvas where buyers can visualize themselves living. People buy on emotion, so being able to "see" an immaculately designed living space is essential.


Staging is especially beneficial for open floor plans, which many people prefer these days. However, if there is little to no furniture, it will be difficult for buyers to imagine how and where to place their furniture. This leaves room for buyers to second-guess your home, making staging that much more important. You want buyers to think less and fall in love more, making them feel confident in their home purchase.
6. Online listings with stunning photos stand out.

House hunters have access to a plethora of listings via the internet, allowing them to scroll through endless properties in the comfort of their homes. Stage your home to ensure you give potential buyers something pretty and enticing to look at. After all, what's the point in hiring a professional photographer to capture your home's best attributes if the rooms aren't entirely dialed in?


The combo of a staged room and professional photos attracts buyers to view your home. Taking photos of your beautifully staged property, writing a detailed listing showcasing the home's best features, and posting the listing online through various platforms can lure buyers fast! Note that buyers scroll through plenty of listings, so a well-staged property will get the most attention.
7. Agents find it necessary, and buyers expect it.

Most experts agree that home staging is critical for a successful home sale. Many real estate agents find it so important that they're willing to pay for a consultation with a staging company. They want your home to sell quickly and for a high price just as much as you do.


As for prospective buyers, many expect homes to be staged. Staging has become more accessible and commonplace in all market segments, but especially in luxury home listings. Given its popularity, home staging services have become very accessible. So give the people what they want to see — stage that home!
General staging tips

Now that you recognize the various benefits of staging, let's get a general picture of what it takes to stage your Florida home properly.
De-clutter as much as possible. Put away anything you don't use daily and make sure all of your kids' toys aren't strewn across the living room floor.

Depersonalize the space. Remove family photos from the walls, put away your extensive Fabergé egg collection, and place all personal belongings away. How will prospective buyers envision themselves in the home if it is brimming with your things?

Deep clean the entire home. Hire a professional cleaning company to handle this.

Focus on essential rooms. Essential rooms to stage include the kitchen, dining room, living room, main bedroom, and main bathroom.

Make minor repairs like caulking and spackling areas that need a little love.

Keep decor neutral, as not everyone loves vibrant colors. Neutral colors will appeal to most prospective buyers.

Improve curb appeal. The front yard and home exterior is the first thing potential buyers will see upon arrival. A manicured lawn, beautiful flower beds, and a babbling water fountain will entice them to inspect your home further.
Home staging is a critical part of selling your home. If you're convinced that you need to stage but aren't sure where to start, contact
King & Associates Real Estate
real estate team today. These Tampa Bay home sales specialists will walk you through every step of selling your Florida real estate with ease, ensuring you get your home on and off the market in a flash.